The reason I started blogging about my Tiny House experiences is because of my strong belief in community, sustainability, and permaculture. The last couple weeks I have been busy working on all fronts!
Fairfield Tiny House Communities
While the popularity of tiny houses is expanding throughout the US, the sense of TH Community building is not quite there yet, except in Fairfield Iowa that is! In Fairfield there are probably well over 30 tiny houses and many of them, I am happy to report, are part of miniature Tiny House Communities.
There is Prairie Song Farm (a.k.a. The Farm) a few miles North of Fairfield's center that has approximately 5-7 tiny structures. My friend Jason lives there and is building a really cool tiny dome-like structure. Even though he is in a separate tiny house community than mine, I spent some time helping move the hay bails into place earlier this week. All of the Tiny Houses that I am aware of at The Farm are off-grid (Sustainability... score!)
Of course there is SoFair Farms where my friend Tom Greene is building a TH Community. I believe there are 2-4 tiny houses currently in his community with plans for 2-4 more. Earlier this Spring I helped Tom with reclaiming some great old barn boards to be used in building one of SoFair's tiny houses. I am not certain what the off-grid energy plan is, or even if there is one. However, the Farm is being designed with many permaculture principles in mind. (Permaculture... score!)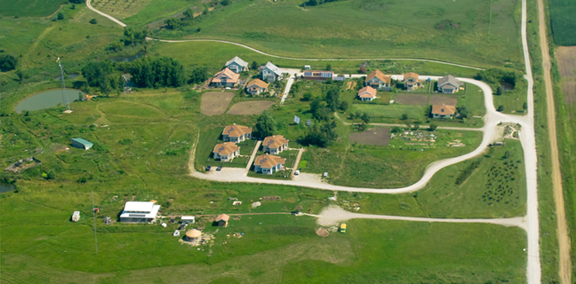 A must visit in Fairfield is Abundance EcoVillage. Although their square footage does not qualify as "Tiny Houses" with a starting size of 500 sq. ft., the community itself is advanced and well established. The EcoVillage is completely off-grid with both solar and wind energy. (Sustainability... score!) They have community and individual gardens, a swimming hole with a little beach, a recycling and waste program, walking paths and much more. Their location is within a couple miles of down town so their residents have the option of biking to accomplish many of their needs if they so desire. (More Sustainability... score!)
The Sustainable Living Coalition, a non-profit near the EcoVillage is also home to a few tiny houses. Currently there is a yurt, a 10'x10' tiny house, and a couple other tiny structures. I believe all of these tiny houses are off grid and their residents bring in the own water or do rain water catchment. (Sustainability and Permaculture.... score!)
The Hap Center (which is not really the name of the property) is a wonderful little plot of land near Abundance EcoVillage. There are currently four tiny houses, three of which are completely off-grid. (Sustainability.... score!) They also have a 4 season mini-greenhouse and an outdoor kitchen with a cob oven! All but one of the tiny houses at Hap's place has their own indoor kitchens, but as many of you TH dwellers know, in the summer cooking indoors can heat up your TH pretty fast! So an outdoor community kitchen for 3-season cooking is a fabulous idea. (Permaculture... score!)
My new community where my TH is going to reside currently has 4 Tiny Houses on-site at various stages of development. The largest is a beautiful hay bail and earth plaster home. At right around 500 sq. ft. they do not qualify as a Tiny House, but the remainder of the abodes on the 25+ acre farm are definitely tiny. All of the structures on the property are off-grid (Sustainability... score!)